Research
Arbuscular mycorrhizal fungi (AMF)
Arbuscular mycorrhizal fungi
A symbiosis between plants and fungi ...

Plants colonized land 400 to 500 million years ago. The roots of those pants were colonized by an ancient group of fungi: arbuscular mycorrhizal fungi (AMF). AMF probably played a crucial role in the colonization of land by plants. Ever since this first colonization of land by plants, AMF have formed an intimate association, called symbiosis, with the roots of most terrestrial plants. This symbiosis is beneficial to both plants and AMF. AMF individuals are asexual, grow clonally, and realize their life cycle underground. AMF produce spores underground. These spores produce hyphae that grow in both plant roots and soil where they gather nutrients for plants. In exchange plants provide AMF with essential carbon compounds for their growth.

AMF do not form external structure like mushrooms do

AMF are microscopic fungi of the soil. AMF form spores and thin filaments (hyphae) which take nutrients from the soil





80% of land plants are associated with AMF. There are approximately 200 morphospecies of AMF

AMF have probably helped the first plants to colonize land
A mutualistic symbiosis: beneficial symbiosis for both plants and fungi ...

AMF are obligate symbionts, they can not survive without plants. On the other hand plants can survive without AMF but the benefits can be very high for plants to establish the symbiosis. Indeed, AMF can increase plant growth and can protect them against herbivorous and pathogens. AMF are very important in ecology, agronomy and the environment. It is therefore crucial to have a good knowledge of these organisms and of their genetics. However, our knowledge about AMF genetics is very incomplete.


Genetic particularity of AMF ...

The majority of organism arises from a mix between a male gamete (here yellow) and a female gamete (blue). Each gamete has a genetically unique nucleus and the combination of parental gametes generates a new cell with a nucleus (blue) genetically distinct from the ones of the parents. This new cell or egg multiplies generating the new offspring. This offspring is composed of millions of cells and each of them posses an identical nucleus, therefore a nucleus with the same genetic content.




AMF have a completely different genetics and reproduction...

AMF are coenocytic, meaning that they are not compartmentalized in cells as in the previous example. Nuclei are free inside spores and hyphea of AMF. Recent research has revealed that genetically different nuclei can coexist within a same individual AND the different nuclei can be transmitted to the new generation, without a reductional step with one nucleus per spore.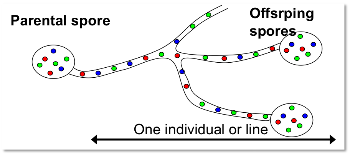 One individual or line refers here to all the progeny (all the new spores and hyphae) produced from one single spore.
Why AMF are so interesting...?

The coexistence of genetically different nuclei within a same individual and the transmission of this diversity make these fungi completely unique organisms. This feature raises many fundamental questions that have been little studied at this time.
Following selfish genes theory, one wonders why a nucleus with a certain genetic makeup does not grow more or faster than another? or how cheaters do not invade AMF populations? From a functional point of view, one may ask how an individual can be operational while receiving information from different nuclei at the same time? or, how this system can exist for 500 million years and experience such ecological success? Given the effect of fungi on plant growth, particularly agricultural plants, what might be the consequences of a better knowledge of such a genetic system?

Those questions motivated my desire to do a PhD on AMF and to continue my research on this topic.

The main question of my research can be shorten to:
How and why genetically different nuclei can coexist within a same individual?
Research
Arbuscular mycorrhizal fungi (AMF)